Optimising your website for audio search
With voice search gaining in popularity, it is vital for businesses to adapt to the changing digital landscape.
Voice search improves user experience as it is faster and more convenient and provides more accurate results. This means that if your website content is optimised effectively, your business could be the first search result which a digital personal assistant suggests.
What is voice search?
Voice search is a technology that allows users to perform a search on the internet by verbally asking a question on a smartphone, smart device or a computer rather than using the traditional approach of typing the query into a search box.
Why Voice Search is Important for you
Within the next 2 years, voice search is expected to account for up to 50% of the global search market so it is vital that your company starts to incorporate it now.



The capabilities of voice search are constantly expanding  and are no longer limited to basic tasks like navigation, questions and answers, playlist management or placing a phone call but activities like shopping, email management, calendar management and many others are being supported as well with more added every day.
Voice search is not only a thing of the future but the present and statistics prove it is fast becoming a part of everyday life. Indeed last year, the AI-powered Google Assistant improved its understanding of the English language, with an accuracy rate of up to 95% and a word error rate of only 4.9%.
Furthermore, the first organic search result on Google's SERP gets up to 35.35 percent of clicks. In voice search, there is an even smaller window. There are only three top results for mobile and one result for smart speakers. Ranking at the top means everything and represents a unique opportunity for companies who optimise their content for voice search to get ahead of the competition.
Creating a Voice Engine Optimisation Strategy
1. Optimise Your Business Listings
It is essential that you keep your business listings up-to-date and consistent so that you can provide accurate business information to users via Google My Business (GMB).
GMB is a unique tool created for small, medium and large businesses which want to show their online presence to potential customers who are using Google search and maps. Today, a well-maintained GMB listing is a vital source of traffic and, ultimately, revenue, especially for businesses competing for location-specific keywords. Below is a prime example of effective GMB listings from BMW who have implemented a localisation strategy for each individual dealership.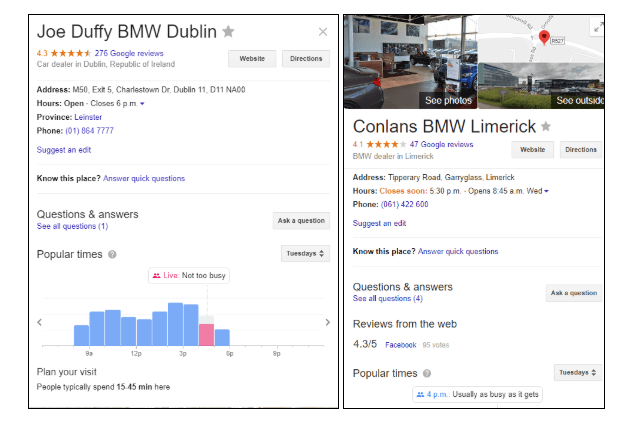 2. Improve Site Speed
Mobile voice search users demand immediate search results so it is vital that your website loads quickly. Studies show that 53% of people will leave a mobile landing page if it takes longer than 3 seconds to load. Furthermore, Google's new "speed update" means that page speed is now an important ranking factor for all mobile searches.
Google PageSpeed Test
There are a number of tools which you can use to audit your page load speed and optimise for best practice. One useful tool is Google PageSpeed Insights. Not only will you learn about your site's load times, you also can get detailed optimisation suggestions along with information on how to implement them.
Pingdom Website Speed Test
Another useful tool is the Pingdom Website Speed Test. Pingdom specialises in diagnosing the speed of a website using a waterfall analysis, this diagnostic method is crucial as it breaks down the performance of a website's loading process step-by-step. This tool from pingdom.com helps to analyse the load speed of websites and highlights how to make them faster.

To learn more about responsive design CLICK HERE
3. Content Strategy – Ask Questions
According to ThinkWithGoogle.com, 41% of people who use voice search say it feels like talking to a friend. These people are engaging with their voice-activated speakers as if they were human. Thus, the way in which they conduct voice searches also differ.

They don't simply say keywords. They ask questions.

In order to optimise your website for audio search, you should focus on using conversational, long keyword phrases in your content as this will help you to better answer natural language questions.
You can find the natural language keyword phrases that your target audience is most likely to ask by analysing Keywords on Google Ads or Google Analytics. By using these tools you can analyse what keywords users use to find your website and structure the questions you include throughout your content accordingly.

4. Content Strategy – Provide Answers
According to backlino.com, 40.7% of voice search answers come from feature snippets. Therefore, it is vital that you provide the answers for popular search terms in your copy as Google will highlight the best answer to the search query and show this to the user.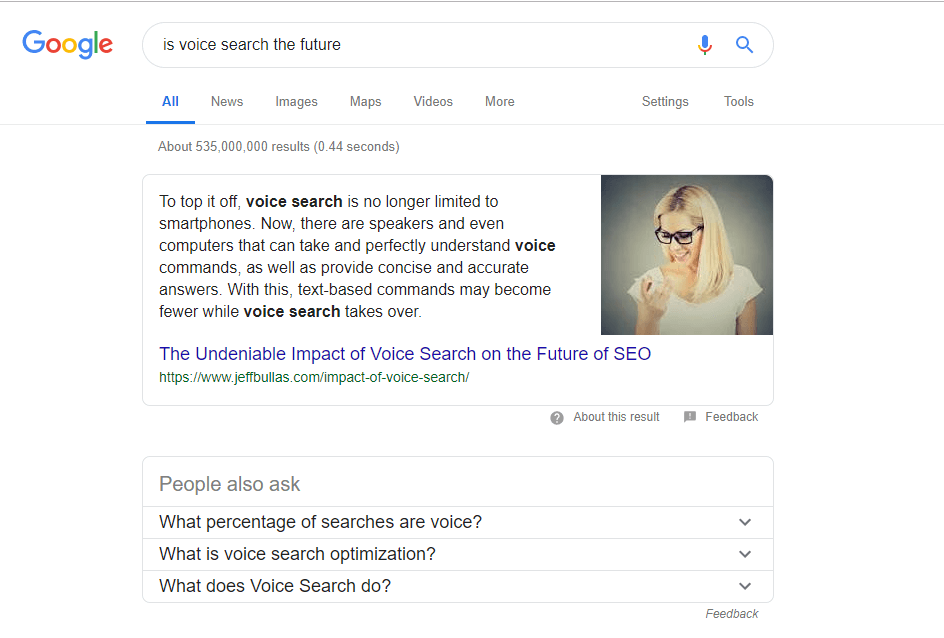 Making sure you have the right answers can be achieved in a number of ways;
Create content that answers users questions to drive conversions at an easy reading level. This is best achieved by setting up a FAQ page to deal with all common questions related to your business.

Update your content often to ensure you are up to date with user queries so you can adjust your copy to reflect the needs and wants of your users.

Use appropriate headings. Questions should be marked up properly in <h2> headers.

Answer all questions on your Google My Business Questions and Answers section. Try to style the answer in an easy to understand and read manner.

Create compelling questions about your company's products and services that will drive conversion.
5. Test your Voice Engine Optimisation Strategy
Although rapidly expanding, Voice Search technology is still in its infancy so it is vital that you test the voice search functionality of your website proactively. This should be done in a number of ways;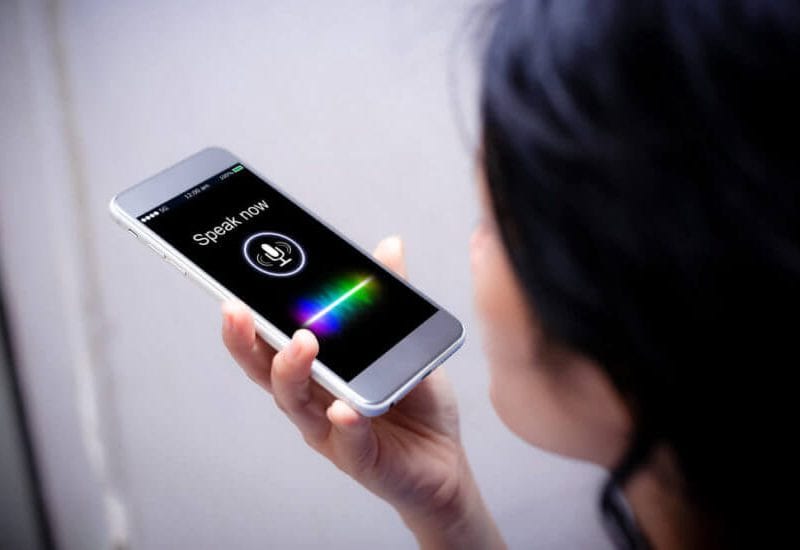 Use Different Devices – Smart Speakers, Google Assistant, Alexa, Siri & Cortana should all be used to test the functionality of your Voice Search optimisation.
What Results are Generated – What sources are answers pulled from?
Do Devices Offer Multiple Listings? – How many search results does each audio device offer you?
Google Rankings – Where does your website rank for the most common questions you have identified and how do you compare to your competition.

If you want to know more about how to future proof your business, get in contact with Digital Strategy Consultants to learn how we can transform your online presence by CLICKING HERE

About the Author

Mark O'Connell is a digital expert working at Digital Strategy Consultants. He has a passion for strategy and for assisting organizations achieve their online goals through best practice techniques and priming them to drive competitive advantage through early adoption of emerging digital technologies. Mark holds a LL.B (BS) (Hons) in Law & Business (TCD), MSc in Data Intelligence (Fordham University, New York) and a MSc in Marketing Strategy (Antwerp Management School). His current research interests are in the field of analytics and strategy and how these disciplines can be used to drive competitive advantage.