Improve Your Local SEO Ranking Using Google My Business
Google My Business is a free tool from Google that helps business owners manage their online presence across the search engine and offers great impact for brands seeking local exposure.
Nowadays, many customers prefer to search for products online and check their availability and price before going to the physical store. That's why it is so important to show your presence on the internet thanks to which you might get new potential customers who will buy your product in physical or online stores.
Why You Need Google My Business
Google My Business (GMB)  was rolled out in 2014 to make it easier for businesses to be found via search. It had an added benefit of allowing businesses to stay on top of reviews, and to perform analytics on interactions like clicks, views, calls and requests for directions. In other words, it became the first step in any local search marketing strategy. GMB is a unique tool created for small, medium and large businesses who want to show their online presence to potential customers who are using Google search and maps. Today, a well-maintained GMB listing is a vital source of traffic and, ultimately, revenue, especially for businesses competing for location-specific keywords.

"28.88% of consumers who search for a type of local business on a mobile device call or go to that business within 24 hours."

As the world's preeminent search engine, Google maintains a 69% share of search in the U.S. and in excess of 90% across Europe. Google also operates Google Maps, the world's most popular local search and mapping app. For businesses increasingly dependent on mobile consumers, the accuracy of location data on Google can often be the difference between thriving and struggling to stay in business. Since 2014, GMB has provided a manual means through which companies can manage their location data across Google Search, Google Maps, and ads. With GMB, businesses can add and claim locations, edit listing information such as opening hours, clean up closed and duplicate locations, and more.
Importance for SEO
Searches conducted with local intent are far more likely to result in visits, both to your premises and to your website, ultimately resulting in a positive impact on sales and conversions. This is because local SEO strategies reach a clearly targeted local audience often looking for a local business.
As Google My Business can also positively contribute to the establishment of your brand's credibility, up to date strategies can be implemented in order to build your brand and cement your online presence. The result is your brand will become visible to all those who want to find you through search, whether that's through brand related search or locally based keywords with user intent.
With increasing numbers of people turning to the internet for reviews and opinions as part of their research process before committing to making a purchase, securing online reviews for your business is an excellent way to stand out from your competition.
Since Google reduced the number of local results from 7 to 3 in 2015, it has become more important than ever for businesses to feature as high as possible in these results. And with 1 in 3 Google searches now having local intent there is more traffic than ever up for grabs. On the flip-side, competition for this traffic is fierce, meaning mistakes can cost you dearly. The Local Search Association estimates that over $10bn worth of potential annual sales are lost because of missing or conflicting information in Google My Business listings. For businesses with multiple locations such as BMW, this can be a real problem as each business location has a unique address and contact details. How can big businesses ensure they aren't penalized for conflicting information on their Google My Business profile?
How Google determines local ranking
Local results are based primarily on relevance, distance, and prominence. These factors are combined to help find the best match for your search. For example, Google algorithms might decide that a business that's farther away from your location is more likely to have what you're looking for than a business that's closer, and therefore rank it higher in local results.
Relevance
Relevance refers to how well a local listing matches what someone is searching for. Adding complete and detailed business information can help Google better understand your business and match your listing to relevant searches.
Distance
Just like it sounds–how far is each potential search result from the location term used in a search? If a user doesn't specify a location in their search, Google will calculate distance based on what's known about their location.
Prominence
Prominence refers to how well-known a business is. Some places are more prominent in the offline world, and search results try to reflect this in local ranking. For example, famous museums, landmark hotels, or well-known store brands that are familiar to many people are also likely to be prominent in local search results
Multi-Location Business Listings
Google is well aware of this problem, and allows business owners to claim multi-location business listings. However, in order to be verified by Google as such, a few conditions must first be met. A business must:
Have at least 10 locations

Not be a service business

Not be an agency managing several clients
Optimising Multi-Location Listings
After claiming your multi-location business on GMB, the next step is to optimise your listing. Before you can do this, you must first understand what factors influence your chance of appearing in the local 'three pack'.
The most important of these is accuracy across all platforms. This means making sure every piece of information about your business is consistent across all the websites it appears on, including Yellow Pages, Yelp, Facebook, Foursquare, Apple Maps, and, of course, your own website. Google bots crawl all of these pages and, when encountering information about your business, they will compare it to your GMB listing to establish its validity. Any inconsistencies will raise a red flag about the accuracy of your information and will likely lead to your GMB listing being penalised in the rankings.
Steps to Consider to Ensure Accuracy Amongst Multi-Location Listings
1. Claim and verify all your locations using a single, unique GMB account
The first step to managing your location data on Google is claiming your business via GMB. You will need a Google account in order to access GMB. If you have an existing account for Gmail or Google+, you can use that account to log in, or you can create a new account. Whatever account you choose, it should be one that your business controls. The claiming process differs slightly depending on whether your business has fewer than 10 locations, or 10 or more locations.
2. Ensure your business name, address and phone number ('NAP') are an exact match wherever they appear
In general, the easiest way to achieve this is to simply copy and paste from the company homepage. One thing to note is that there is no need to have the location in the name as Google is able to display location anyway so this is an unnecessary duplication which many businesses fall foul of.
3. Optimise the store locator on your central website so it's crawlable by Google
Google considers your website the most 'official' source of information regarding your company, so ensuring Google can access it is essential. It is vital that you list all business locations and index the pages using Google Search Console. Eg BMW.ie lists each dealership operating in Ireland.
4. Use a microsite for each of your store locations.
This gives each location a unique reference and separate About page each with an accurate NAP (Name, Address & Phone Number) that Google can crawl along with more detailed information regarding hours of operation and email address. The more information you can give customers, the better.  GMB is all about user experience and using it as an auto marketing solution means following that lead. Furthermore, it is important that all the information you input must be correct. Additional information mentioned could include payment methods, products and services offered, specific accreditations and a Q&A section. To make each individual page stand out further, the use of photos should be used. The difference between the two microsites below illustrates this point.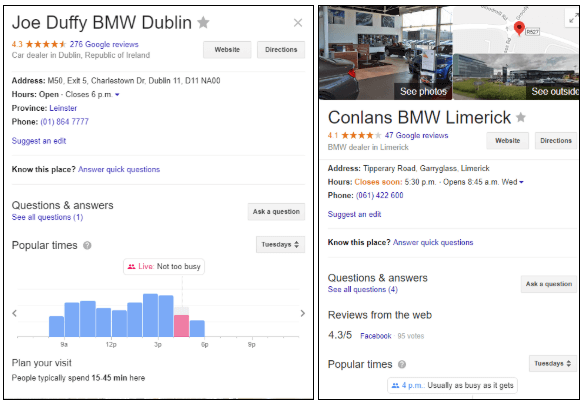 Page Type
Google gives you some choices when it comes to setting up your local page based on your business type or industry. You can choose between the Storefront, The Service Area, and the Brand page.
Categories
One of the aspects of GMB that makes it an effective auto marketing solution is the ability to add multiple categories to one business. The best way to make sure that your business is pulling in the maximum amount of traffic from the various GMB pages is to make sure that you are ranking in searches for all the services you provide.
Hours of Operation
Hours of operation are key and should be included in every business listing. People will be unwilling to make the trip to a location if they are unsure whether or not the business will be open when they get there, and they may end up visiting a competitor instead.
Appointment Booking
Recently expanded appointment booking options allow users to schedule an appointment without having to visit the actual website or get on the phone.
Virtual Tours
This feature lets you add video so that you can give customers a view of your business in action. Using this feature is a great way to reach out and connect with potential customers. Once people get a behind the scenes sneak peek into your company, many of them will trust you more and feel more comfortable doing business with you.
Social Media
Each microsite should provide links to the various social media platforms which the company engages with. It is vital that companies connect with customers via such means so that they can find out more about what is happening with your business at present while also keeping them updated regarding upcoming developments.
Reviews
Google My Business makes it much easier to deal with customer reviews. As you may know from previous experience with Google+ Local, reviews play a major role in your ability to rank in Google's Local Search results. Reviews also matter to your reputation. It's hard to get someone to try a new establishment if it has a steady stream of bad reviews. So it pays to encourage your customers to leave reviews and for you to engage and respond to reviews (both negative and positive).
Posts
Another important perk is the ability to create "posts," or pieces of content that search users will see when evaluating your business. These can be almost anything; for example, they might be limited-time offers and promotions that drive more sales, or articles that provide value to your customers. Think of it as a free advertising opportunity that you can tweak at any time to improve your sales or reputation.
5. Review your dashboard regularly
Following the initial setup and optimisation of the various GMB microsites, it is vital to ensure that these pages are regularly monitored and updated . Having said that, Google makes the final call on things like your primary listing photo, and anybody can suggest edits to your business information. Google will notify you in the dashboard if you have any updates that need to be reviewed. If you neglect your listing, you could end up presenting inaccurate information to your customers, such as outdated or wrong business hours and contact details which could cost you valuable business.
One of the best ways to monitor and review your GMB listings is to use a local marketing platform to manage all of your information. This allows you to see what Google sees, and check and edit data for all your store location from a single interface. This ensures complete accuracy across all platforms. Most can also provide advice on optimizing store locators for your website, along with detailed analytics on user interactions, traffic sources and more. Suggested platforms include ThriveHive and LocalVox.
Benefits Of Google My Business
Information consistency
Google My Business can practically guarantee the accuracy of your business's information in Google, and by extension, any third-party apps or services that rely on Google to get their data. You'll have the chance to update your business's name, address, phone number, and specific details like your open hours. You'll even have the opportunity to write out common questions and answers about your business (and have them appear on Google Maps). That informational consistency is invaluable to make sure customers are contacting you at the right times and getting the right idea of what your business does.
Visibility throughout the web
Using Google My Business also improves your business's visibility. Many third-party sites rely on Google for their information, so completing your business profile will increase your chances of getting featured on them. Google will also have more information to categorize your business, so it's more likely that you'll show up for relevant local searches.
Better first impressions
One of the best perks of Google My Business is your ability to upload photos or videos, which might show off some of your best products and services or simply display your storefront. Whatever you choose, you'll have full control over the images your customers see when they encounter your business for the first time, leading to more powerful first impressions.

About the Author

Mark O'Connell is a digital expert working at Digital Strategy Consultants. He has a passion for strategy and for assisting organizations achieve their online goals through best practice techniques and priming them to drive competitive advantage through early adoption of emerging digital technologies. Mark holds a LL.B (BS) (Hons) in Law & Business (TCD), MSc in Data Intelligence (Fordham University, New York) and a MSc in Marketing Strategy (Antwerp Management School). His current research interests are in the field of analytics and strategy and how these disciplines can be used to drive competitive advantage.