Battle Of The Brands – AdWords' New Features
Holiday shopping period has arrived and so begins the battle of the brands. Thousands of brands have started investing in PPC advertising to promote their brand, product and sale. With limited space on a screen, advertisers are already using vigorous bid strategies to target those looking to get online shopping done.
In time for peak shopping season, Google has released a few updates to their AdWords tool. Namely Promotion Extensions, Ad Variations & Custom Intent Audience to help advertisers and marketers compete during the shopping season. Google has also made improvements to the Opportunities section, which could be beneficial when used in tandem with the main updates.
The catch, however, is that the new features are available only on the new version of AdWords. So if you've vehemently been avoiding the beta version, it's time to embrace it.
Millions of customers will turn to online shopping for personal and gift shopping. According to Bigcommerce, E-commerce is seeing a growth of 23% year-on-year, with 51% of Americans stating that they prefer online shopping. Thus, giving brands all the more reason to increase focus on their e-commerce sales, using social and PPC as a mode of promoting their sales during the holiday period.
Promotion Extensions – Draw Your Audience's Attention
AdWords' new promotion extensions provide some distinct advantages. The promotion gets its own designated space within your ad, thus drawing attention. Advertisers can use this to their advantage as promotions having their own space allows for more space on ad text for important elements.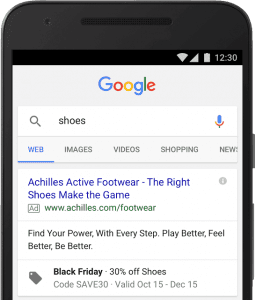 Image Source – Official AdWords Blog
Web users are on the lookout for deals constantly, more so during peak shopping seasons such as Black Friday, Christmas, Back to School etc. According to Bigcommerce, 71% of Americans state that discounts are one of the top three factors in deciding who to buy from.
By using promotion extensions that change as per the need of the hour, advertisers can avoid creating new ads for every promotion period that occurs. Sticking to an ad copy that works and encourages clicks and altering promotions would ensure that your AdWords works well for you.
Pro tip here would be to increase focus on mobile as a platform. Google states that during the shopping season and the weeks leading up to it, a spike in mobile searches occurs as a result of consumers conducting research using mobile.
Ad Variations
If you have handled PPC campaigns before, you know how crucial a small change to your ad copy or CTAs can be. A mere change in wording or tone can either raise or lower CTR and conversions.
Advertisers are now going to be able to use ad variations to conduct AB testing on ad copy, in bulk. According to Google, many advertisers have set up variations for over a million ads in under a minute.
Ad variations would allow you to understand what works with your audience, what gets the highest CTR, conversion etc. and based on your AdWords goal, you can make a well-informed decision on the kind of ads that work for a certain product, campaign or client. Google states that once significant results have accumulated, the platform would show you the performance stats of the ad variations that have been set up.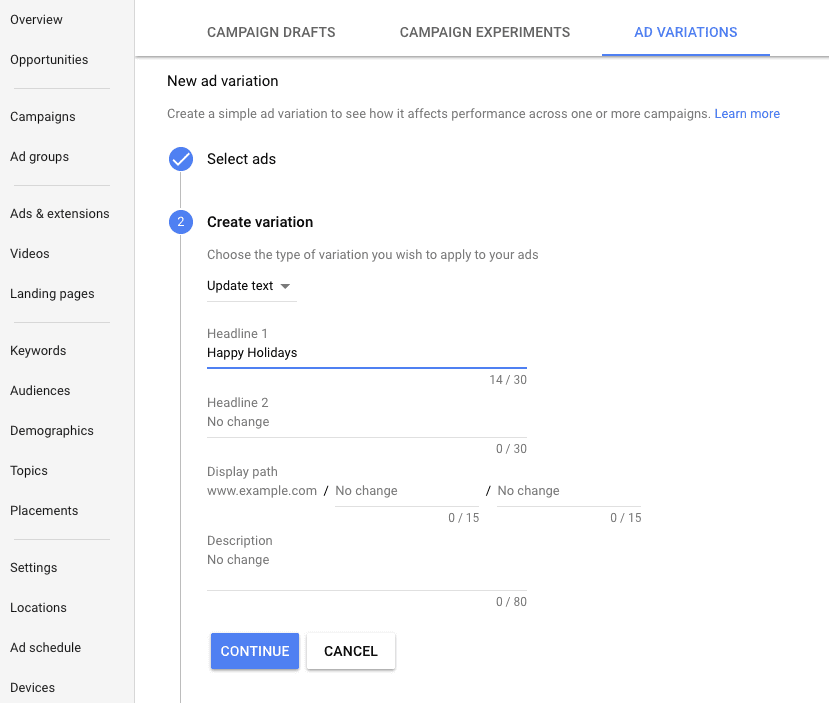 Image Source – Official AdWords Blog
Setting up variations is a simple process and can be done with a few clicks, click here for Google's How-To on Ad Variations for the new Adwords Experience.
Custom Intent Audience – Play Matchmaker
Custom Intent Audience is an interesting update on the new AdWords experience. This feature functions on insights fed to it through Google's machine learning process. The insights are generated by analysing data from your AdWords account, website and YouTube property.
Custom intent audience lets you as an advertiser play matchmaker, in other words, this unique and very useful feature lets you connect the ideal audience with the exact product or feature they are looking for. It is, however, to be noted that custom intent audience is a display network only feature.
Google will categorise your audience and show your reach and performance estimates for each intent category. How do you build an intent category? You can either create them by entering keywords and URLs related to products your ideal audience is researching or let AdWords develop them through your campaign data. Regardless, in a way, you define who your ideal audience is.
To Conclude
We can't help but reiterate if you have not been a fan of the new AdWords interface and have been actively avoiding it, it's time to embrace the new one. We are confident that the learning curve that comes with the new version would not go waste.
The new features hold immense potential and would prove to be very useful for advertisers. When used in tandem, if the improved opportunities section is used to feed intel into your ad variations, promotion extensions and custom intent audience initiatives, it makes for a strong arsenal of tools in achieving all your AdWords goals.  
Watch this space for more information on all things Digital, Online Marketing, Web Design & Development, UX/UI, SEO, Analytics and Advertising.
Digital Strategy Consultants Ltd. is an IT & Digital Consultancy agency situated in the Digital Hub in Dublin. Founded in 2012 with a passion for digital marketing and a drive to bring innovation and a new level of best practices to the industry. Following a data and research-led approach, we specialise in – Web Design, Web Development, UX/UI Development & Design, Online & Digital Advertising, Search Engine Optimisation, Digital Analytics & Reporting, Conversion Rate Optimisation & Social Media.
Tagged:
E-Commerce
Google
Google AdWords
PPC
Search Engine Advertising
Search Engine Marketing