Alibaba's Future in Digital Marketing with Rising Regulations
Digital marketing trends are developing at an unprecedented rate, particularly in recent years. With the current advancements offering both numerous advantages and drawbacks to companies, Alibaba is company, which has capitalised on the rise of changing technologies. Simultaneously Alibaba are coming to terms with the greatest threat it has ever known. This new challenge is a clamp down on AI and digitalisation by the Chinese government. Read on to learn more.
Where are Alibaba now?
Alibaba's cloud offers digital marketing solution services and is driving changes in the world's 2nd largest economy, with a reported 80% of Chinese online retail sales through Alibaba. Alibaba's digital marketing solutions include DSP Platform Marketing campaign sites, multi-channel customer experience and website search. The mobile consumer market experienced rapid expansion and rival, JD.com, was threatening their market share. Alibaba were however, able to adapt their strategy to digital marketing trends accordingly to a mobile app and now 80% of their sales come through this mobile platform.
The Chinese government and its allegations
The Chinese government are the greatest threat Alibaba faces. Beijing are proposing new regulations to curb the monopoly that Alibaba holds in the Chinese market. Alibaba has been accused of carrying out monopolistic practices on its sites Tmall and Taobao, forcing vendors to sell through its sites. These allegations along with the recent disappearance of Jack Ma, the group's founder, have caused the share price to plummet 15%. Jack Ma went into hiding after seemly clashing with the Chinese government. Although, he was spotted recently in Hainan playing golf, perhaps suggesting an improvement in relations. In addition to the antitrust allegations the government have suspended the $37bn IPO of Ant Group, which is Alibaba's payment platform. This was a major blow to Alibaba and it remains to be seen what the exact reasons for this were.
"It doesn't matter if I failed. At least I passed the concept on to others. Even if I don't succeed, someone will succeed." ~ Jack Ma
Rising Regulation in China
Another area that has bolstered Alibaba's position as a dominant market leader is the growing level of digital adoption both in China and globally. In 2018, China's digital economy grew by 20.9% from 2017 (Deloitte, 2019). Coupling the massive domestic market with the fact that China's internet penetration currently stands at only 54.6%, there is significant room for further growth in the e-commerce space. Alibaba are definitely taking advantage of growing digital marketing trends (JP Morgan, 2019).
One promising area in particular for the company is their AI translation tool. It provides valuable support for instant language translation. Thus, it helps facilitate global trade taking strides into digital marketing's future.
Will politics win over technology?
The Communist party of China, currently in government, remains an imminent threat for Alibaba. Several of the party's laws could potentially impact the company. Alibaba are facing penalties for owning the growing majority share of the Chinese e-commerce market (click here to learn more about security threats in e-commerce market). There are strict anti-monopoly laws that would prevent Alibaba from obtaining too large of a market share however. (Gibson Dunn, 2018). For example, Tencent (which is part owner of Alibaba's largest domestic rival), won two cases of abuse of dominance, in which they were defending against the state. This proves the regulating bodies are unrelenting and will continue to seek breaches of these laws and prosecute them where possible.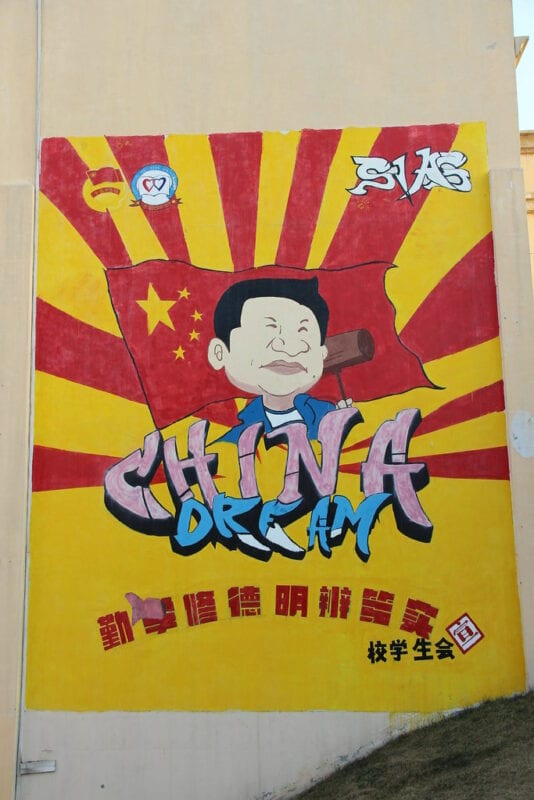 Legal clashes with Beijing
Alibaba also faced legal backlash following the government's findings of counterfeit goods on the Taobao site in 2015. The vast number of goods advertised on the website make it possible to regulate, with counterfeit goods reappearing on the site without the firm's regulators noticing. A 2018 investigation into the firm found that Alipay users had their personal information illegally saved and shared without their knowledge or consent (CNBC, 2018). Beijing has utilised legislation to strictly regulate the firm's activities thus far.
Alibaba 'Datifying' every exchange
Another important aspect of an increasing level of digital adoption is the data crumbs left behind by customers. Through technological advancements, Alibaba has been able to 'datafy' every exchange. As a result of this Alibaba and its spin-off enterprises have successfully built strong digital profiles of their customers (Deloitte, 2019). This has helped Alibaba from targeting advertisements (click here to learn more about display advertising) at specific customers on AliExpress to vetting potential loanees with Ant Financial. While Ant Financial is a separate entity from Alibaba, Alibaba has a 33% stake in the financial company (HBR, 2018).
Digital marketing trends are ever evolving (click here to learn more about evolving trends) and Alibaba will likely face numerous challenges into the future. They are adapting to these evolving changes and their numerous technologies will place them in a favourable light going forward. Nonetheless, the outlook for the digital marketing company remains uncertain with Beijing on their heels.
Tagged:
Digital marketing Future
Digital marketing trends